Sam Cook has spawned the growth of forestry for African American students.
To commemorate a fellow forester during Black History Month, we'd like to spotlight Sam Cook and his harvest of achievements within the industry and beyond.
His interest in forestry is rooted in Alabama, where, while in high school in the late 1970s, his sister told him about the forestry program available at Tuskegee University, where she went to school. Cook followed suit and earned an A.S. in forestry from Tuskegee University in 1981, followed by a B.S. in forest management from NC State University in 1984.
He began his professional forestry career working for the USDA Forestry Service Intermountain Forest and Range Experimental Station in Boise, Idaho. Cook went on to work for Duke Energy in Durham, N.C., for the next nine years and serve in managerial roles at International Paper Company's Forest Resources Division for more than 15 years. In 2012, he served as director of forestry for the Center for Heirs Property Preservation in Charleston, S.C., to help landowners make money from their land, while also running a consulting forestry business since 2007 in both North and South Carolina.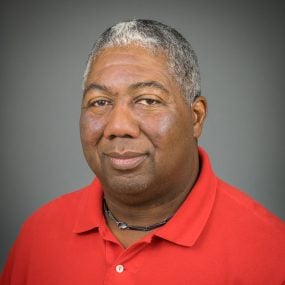 And in 2016, he took over his current position at NC State University as executive director of Forest Assets for the College of Natural Resources and as VP for the Natural Resources Foundation Board. His duty: to oversee10 forest properties that support research and generate more than $3 million annually for the college. Cook is also the liaison between the foundation, the NC State Board of Trustees and the College of Natural Resources Foundation Board.
For his philanthropic work with related nonprofit organizations throughout the Carolinas, Cook received the inaugural Diversity Leadership Award at the annual Society of American Foresters (SAF) conference in 2018. The award recognizes individuals within SAF that are leading innovative diversity and inclusion efforts. Cook was also bestowed that year with the Henry Hardtner Award from The Southern Group of State Foresters. Named after the "father of forestry in the South," the award goes to someone who best promotes forest stewardship and conservation partnership.
But, according to an online article in the College of Natural Resources News, he says: "I don't do what I do for awards. Promoting diversity and inclusion in natural resources fields, like forestry, is not in my job description, but I put it there. It's part of my life and I'm passionate about it."
His passion is devoted to getting more minorities, especially African Americans, involved in the forestry industry.  His family recently founded two funds to support NC State's forestry student recruitment of minorities.  The Bureau of Labor Statistics reports that African-Americans make up about 9 percent of the forestry and logging workforce.
Cook also works with the Sustainable Forestry and African American Land Retention Program, a partnership between the U.S. Endowment for Forestry and Communities, USDA Natural Resources Conservation Service and the USDA Forest Service to protect African-American landowners and manage their family forests throughout the Southeast. He developed a youth segment to spark more opportunities in this demographic and at a younger age with a middle school pilot program in South Carolina and plans to grow with more programs in other states in the future.
Header Photo – Sam Cook at the SAF Conference – Photo credit: NC State College of Natural Resources News